Making Cents of Senses
a USEA Blog
---
In an ever evolving world of digital developments, we like to be a part of all the action! We're not camera shy, we strive to constantly put ourselves out there and ensure our ideas, thoughts and innovation are being heard!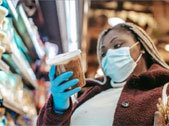 17 February 2021
Making Cents of Senses: The Outlook on Sensory Marketing for 2021
For business around the globe, big or small, 2020 proved to be a complete wild card that presented itself in the form of a pandemic.
Day-to-day life and regular habits were forced to change overnight in order to adapt and adhere to the "new normal". At one point, stepping out of our homes for a leisurely walk was nothing but a pleasant daydream, what more hopping down to the mall to shop till you drop?